Hello all, long time since I have posted on here, it's been a mentally busy semester at work (uni), but calming down now.
Our
Atta cephalotes
colony continue to thrive...there have been days where we have been tearing our hair out because the little blighters are dumping in the water (DAILY water changes!). We painted on fluon, they found a way to continue getting over the top and dumping in the moats. They won, for a while, then they stopped the dumping in the moats. At the moment, all is well, they are doing great and behaving themselves. There is plenty of activity and foraging is good. The fungus gardens are looking good and some are very large. Feeding mostly privet at the moment (our uni Estates has planted new privet shrubs for them), and a bunch of bramble leaves goes in the nest tank once per week. They are also sharing their lives with some mites. I have had them ID'd and it turns out they are stored product mites (Astigmata). I have been advised that the ants may eat them (!). These have turned up as we also give the colony dry forage in the form of brown rice, flaked almonds, red, split lentils and brown flax seeds, all well taken, along with fresh apple. The mites don't seem to bother the colony at all. The colony still takes a mixture of dry forage and fresh leaves. We started on the dry forage to balance out the moisture in the nest, while they dumped in the water (the fungus waste was very wet). After two weeks of this, it seemed to do the trick! The dump tank is nice and dry and no more (at the moment) wet fungus material is being dumped in the water or the waste tank! To the point that I may remove the fluon from around the nest tank soon....but in the back of my mind, I'm thinking that they may start the water dumping again! You never know!
Today we decorated the forage area for Christmas, placing gold and red baubles for the colony to investigate. We can place sticks of leaves through the baubles, so it serves a useful purpose AND looks very Christmasy!!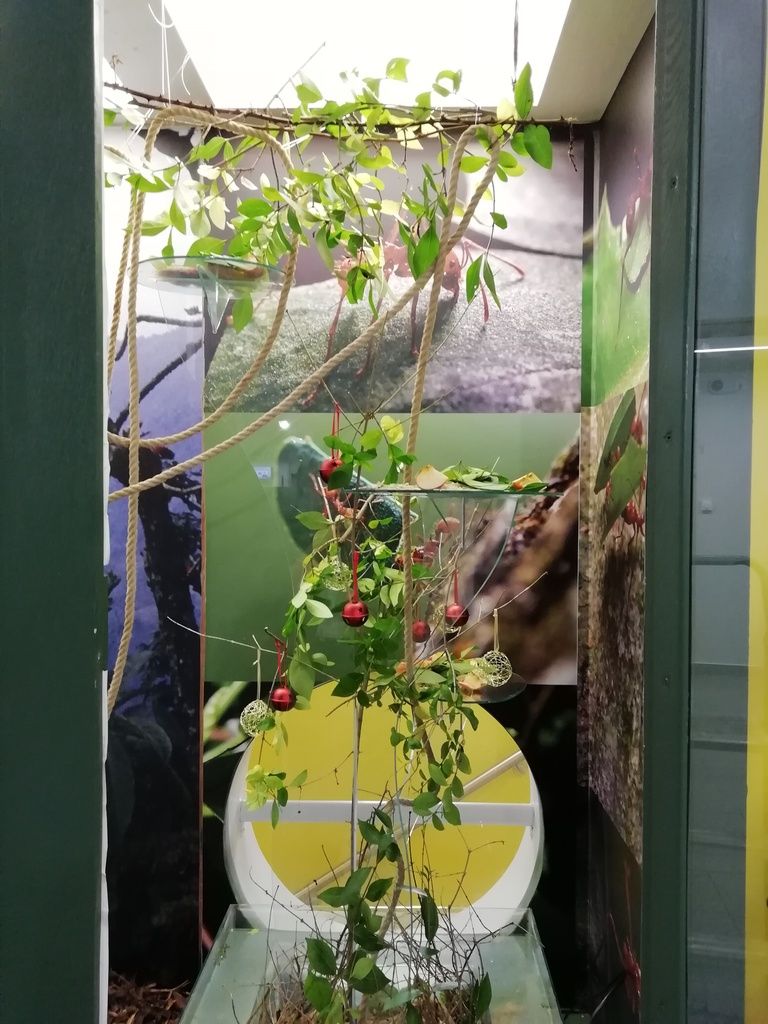 It's nice to post on here again, and hello Andrew!!